Merotel is a dietary supplement containing L-Glutathione and essential vitamins that aid in repairing damaged skin, reducing wrinkles, improving complexion, and stimulating collagen production. It also alleviates the symptoms of impotence and erectile dysfunction and provides relief from menstrual cramps. For individuals with PCOS (Polycystic Ovary Syndrome), Merotel can increase fertility rates. Additionally, it supports weight management and promotes skin brightness and hair growth.
Merotel L-Gultathione which helps in tissue building and repairing.
Merotel helps in anti-aging.
Merotel has Vitamin B1 which is good for red, acne-prone, or dry skin.
Merotel also contains Vitamin B2 which helps improve skin tone and make skin more radiant.
Merotel contains Resveratrol as it helps in repairing the damaged skin.
Regular price
Rs.1,995.00
Regular price
Sale price
Rs.1,995.00
Unit price
per
Sale
Sold out
View full details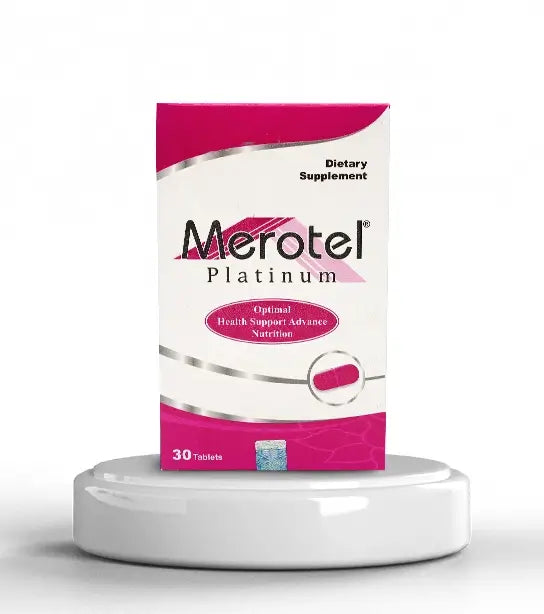 RESVERATROL
May help protect against age-related diseases.
CO ENZYME Q10
Helps to boost energy production and protect cells from damage.


L-GLUTATHIONE
A powerful antioxidant that helps protect cells from damage.
SELENIUM
A mineral that helps protect cells from damage and supports thyroid function.


N ACETYLE L CYSTIEINE
Produce glutathione that helps boost antioxidant levels.
Ayesha Yousuf
Verified
I've been using Merotel for a while, and it's fantastic. It increased the chances of conception. Delighted with the results! Highly recommended.
Ahmed Sufyan
Verified
Merotel worked wonders for my erectile dysfunction issues. My performance improved, and it also supported fertility. Great product!
Zubair Ahmed
Verified
Merotel not only helped with my erectile issues but also supports cardiovascular health and mental focus. Highly satisfied with the product.
Fiza Siddiqui
Verified
Merotel is a game-changer! Improved intimacy and increased fertility chances. Plus, the added health benefits are incredible.
Omar Shah
Verified
As a regular user of Merotel, I can confidently say it's the best medicine for erectile dysfunction. Improved my sexual health and overall well-being.
Sana Khokhar
Verified
Merotel is the best medicine for erectile dysfunction in Pakistan. Improved my partner's chances of pregnancy. Highly recommend!
Dietary Supplement
Neobiotic Merotel is a dietary supplement that contains L-glutathione and vitamin C. L-glutathione is an amino acid that supports immune system enhancement, tissue development, and skin health by promoting a healthier complexion and addressing oxidative stress. Vitamin C is an antioxidant that partners with glutathione to safeguard the skin from the adverse effects of oxidative stress, contributing to skin radiance and vitality.