Neofem is essential to the normal development of your baby's spine and brain. Taking a daily Neofem can help to reduce the risk of neural tube defects by as much as 70%. Neofem helps during pregnancy's first trimester as it includes folic acid, and vitamin D. Folic acid helps produce red blood cells and prevents birth defects, while Vitamin D plays an important role in the development of your baby's bones and teeth. Neofem is a balanced and nutritious diet essential during pregnancy, along with regular exercise and adequate rest.
Each tablet contains L-Methylfolate that protects from neural tube disorder & congenital abnormalities.
Each tablet enhances the development of new cells including nail, hair, and skin cells
It helps produce normal red blood cells which prevent anemia.
Each tablet contains folic acid which helps in maternal tissue growth during pregnancy.
Regular price
Sale price
Rs.380.00
Unit price
per
Sale
Sold out
View full details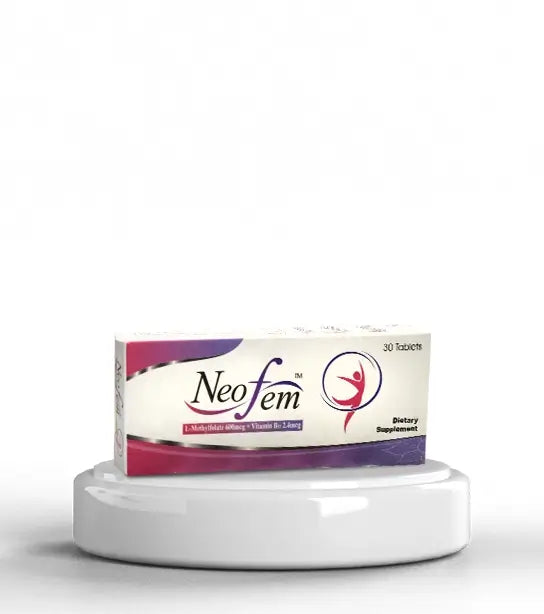 VITAMIN D
Contributes to the regulation of hormonal activity


REDUCING THE RISK OF NEUTRAL TUBE DEFECTS
Evening Primrose & Starflower oils


FOLIC ACID
Contributes to the maintenance of normal skin, hair and nails
VITAMIN B12
Contributes to the normal function of the immune system

Zara Shahid
Verified
I trust Neofem completely for my baby's development. It's packed with the necessary vitamins for brain and blood cell formation.
Hooriya Jalal
Verified
Neofem is my top choice for vitamins during pregnancy. It provides essential nutrients for my baby's well-being. Love it!
Hassan Ali
Verified
Neofem is a must-have during pregnancy. It's loaded with vitamins and iron, ensuring a healthy baby and mom. Highly prefer it.
Osman Shah
Verified
Neofem is fantastic for expectant moms like my wife. It supports both baby and mother's health during pregnancy. Very satisfied with the product.
Sara Amin
Verified
Neofem is a blessing for brain development during pregnancy. It contains essential vitamins for my baby's growth. Highly prefer it.
Ahmed Siddiqui
Verified
Neofem is essential for pregnant women! It supports the baby's development and prevents anemia. Highly recommended for all expectant mothers.