Hemofem Capsule is a unique and powerful iron supplement for adults. Hemofem Capsule is a product that is helpful in removing a deficiency of iron. Hemofem Capsule can also be used to restore the energy lost with menopause and enhance physical strength, which helps protect against fatigue and stress-related exhaustion.
It contains L-Methylfolate which is helpful in protecting against disorder of the neural tube.
Each tablet of hemofem contains iron to remove the deficiency of iron in the human body.
Hemofem Capsule contains Vitamin B12 which helps in better development of the human body.
Each tablet of Hemofem has zinc that removes zinc deficiency from the body.
Regular price
Sale price
Rs.490.00
Unit price
per
Sale
Sold out
View full details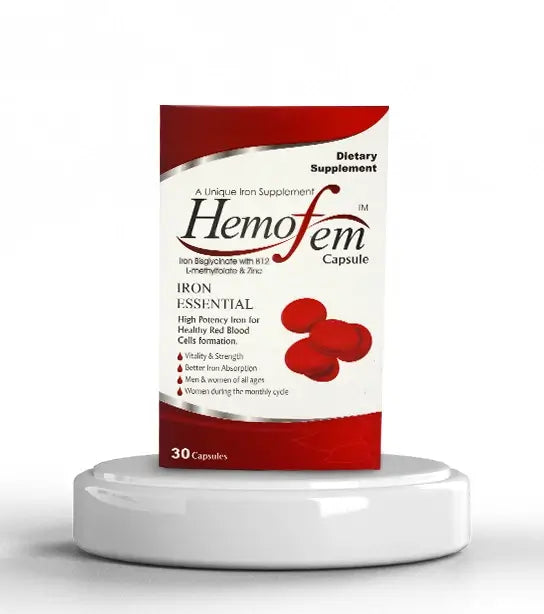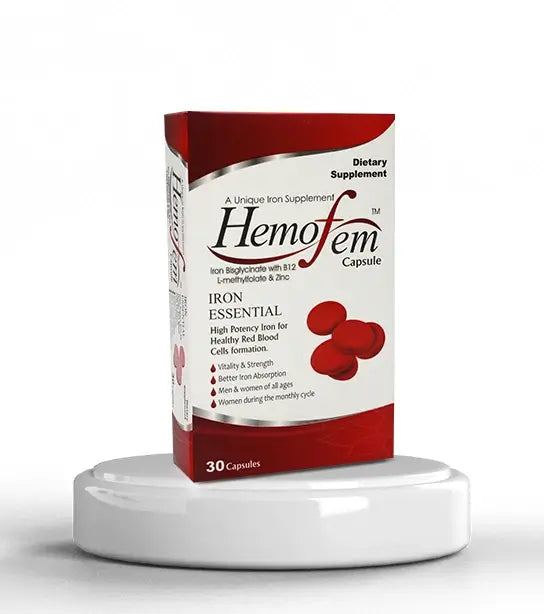 VITAMIN B12
Promotes red blood cell production, nerve health.

ZINC
Supports the immune system, skin health, and wound healing.
PAKISTAN NO 1 IRON SUPPLEMENT
Improves iron levels, and boosts energy.
Bilal Khan
Verified
Hemofem Capsule is fantastic! It removed my iron deficiency and increased my vitality. Perfect for both men and women of any age.
Rabia Malik
Verified
I was always tired due to iron deficiency, but the Hemofem Capsule changed everything. I feel energetic and healthier now. Love it!
Aliya Shah
Verified
Hemofem Capsule is a game-changer! My iron levels improved significantly, and I feel much stronger and active. Great product for everyone.
Zainab Iqbal
Verified
Hemofem Capsule is a must-have! It helped with my iron deficiency, and I can feel the difference in my vitality. Highly recommended!
Hassan Ahmed
Verified
I've been using Hemofem Capsule, and it's impressive. Increased vitality and better iron absorption. It's a must-try for iron deficiency.
Sadia Ahmed
Verified
Hemofem Capsule is a lifesaver for iron deficiency. It boosted my energy levels and helped with red blood cell formation. Highly recommend!