Have you ever experienced feelings of fatigue or weakness despite the fact that you were eating a nutritious diet? It's possible that your body isn't getting enough iron, a necessary mineral that plays a role in the production of red blood cells and is lacking in your diet. Here's where Hemofem can help you out! You may assist your body acquire the iron it needs to function properly by taking an iron supplement in Pakistan called Hemofem, which is a unique form of syrup that contains iron.
It can also help give you energy, especially if you're going through menopause.
It also contains other important nutrients like L-Methylfolate, which can help protect against certain disorders.
It also contains Vitamin B12, which is crucial for overall development.
Each serving contains zinc to help ensure your body is getting the right amount of this important mineral.
Regular price
Sale price
Rs.240.00
Unit price
per
Sale
Sold out
View full details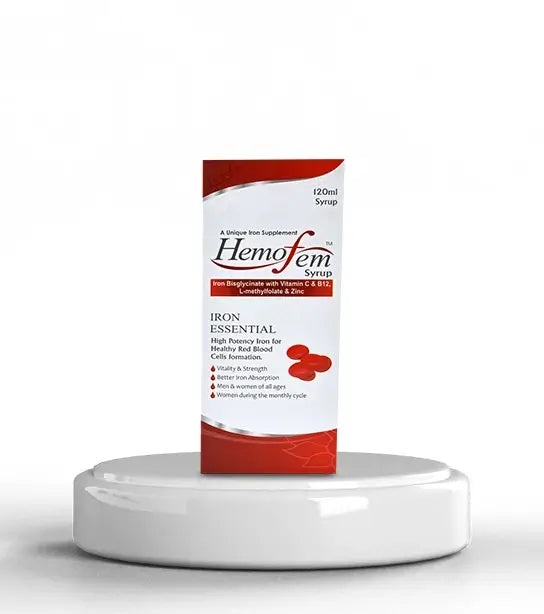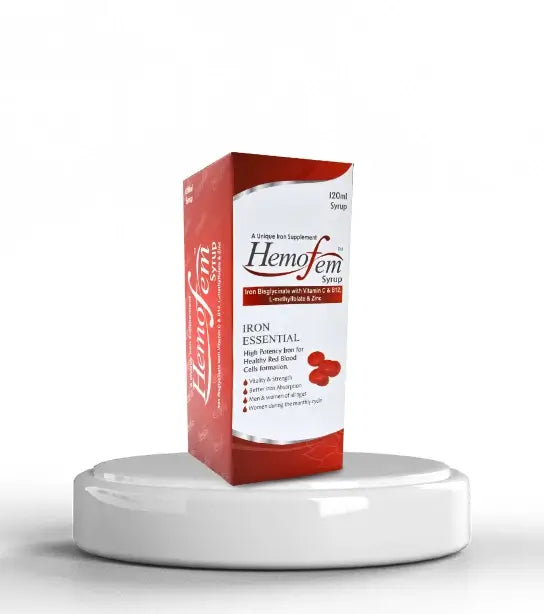 Iron Bisglycinate Chelate
Improves iron levels, and boosts energy.
Elemental Iron
Improves iron levels, prevents anemia
VITAMIN B12
Promotes red blood cell production, nerve health.

ZINC
Supports the immune system, skin health, and wound healing.
Ahmed Ali
Verified
Hemofem is incredible! It's like a vitality boost. Do you have iron deficiency? Then try this syrup it is the key to stronger blood cells and better health.
Ayesha Ahmed
Verified
Hemofem is a game-changer! It's more than just an iron syrup. It gave me strength, vitality, and healthy blood cells. A must-try in Pakistan!
Zubair Malik
Verified
Hemofem is a blessing! Say goodbye to iron deficiency! This magic syrup gave me vitality and strong blood cells. It is an amazing product in Pakistan!
Farah Adeel
Verified
Hemofem is fantastic! It's like a boost of energy. No more iron deficiencies. This syrup truly supports overall health with strong blood cells.
Bilal Akhter
Verified
Hemofem is a must-have! Iron deficiency was my main concern, but not anymore. This is like a vitality syrup, keeping my blood cells healthy.
Sadia Yusuf
Verified
Hemofem is a lifesaver! This magic potion banished my iron deficiency. I feel more energetic and revitalized. It is the best iron syrup in Pakistan!