Multiflex is an essential dietary mineral supplement for everyone. Its advanced formula provides the nutrients your body needs to function at its best, helping to support healthy metabolism, enhance vitality, and improve overall health. With its balanced blend of vitamins, minerals, and trace elements.
Each tablet contains 1000 IU of Vitamin A which helps in improving normal vision, the immune system, reproduction, and growth and development.
It also has Vitamin C which helps in maintaining healthy skin. It also helps in wound healing.
Each tablet of Multiflex contains Vitamin E which strengthens the body's natural defense system against infection and illness.
It contains 400 mcg folic acid which is important for women in their pregnancy.
Regular price
Sale price
Rs.750.00
Unit price
per
Sale
Sold out
View full details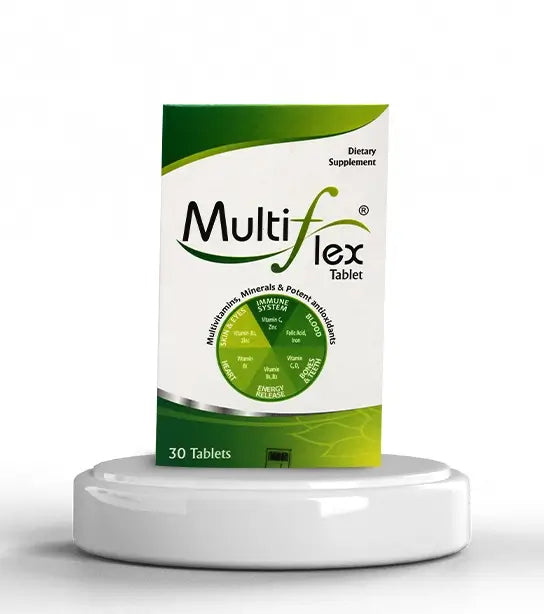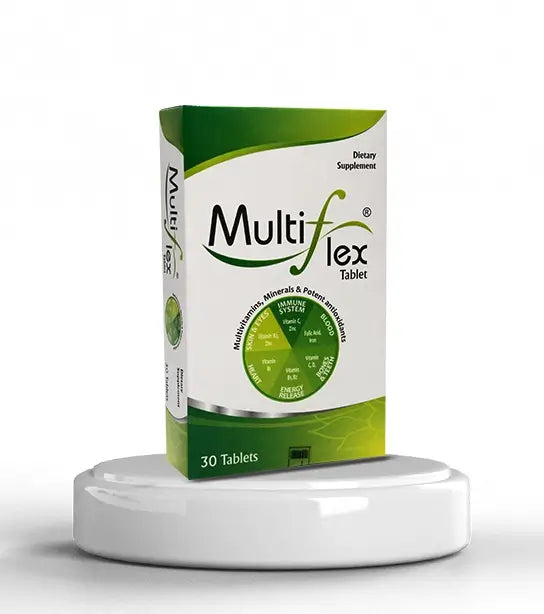 VITAMIN A
Promotes vision, skin health, and immune function.
VITAMIN C
Boosts immunity, helps heal wounds.
VITAMIN D
Improves circulation and reduces inflammation.

VITAMIN E
That's important to vision, reproduction, and the health of your blood, brain and skin.
VITAMIN B12
Helps with red blood cell production, nerve function, and energy metabolism.

ZINC Boosts
Boosts the immune system and promotes wound healing.
Yusra Ameen
Verified
Multiflex is a must-have for moms-to-be! It supports healthy bones and teeth. It helps females for a smooth pregnancy journey. Highly recommended.
Sameera Ali
Verified
I trust Multiflex completely. It maintains my HB and promotes my overall health during my pregnancy. It is a comprehensive multivitamin for pregnancy and beyond. Highly recommended.
Waleed Shah
Verified
Multiflex is fantastic! It helps in supporting my wife's immunity and prevents pre-eclampsia. An essential supplement for moms and moms-to-be. Highly satisfied.
Syra Iqbal
Verified
Multiflex is a blessing for women's health. It helps me in preventing NTDS, as well as supports my healthy pregnancy. Highly recommend for all stages.
Lamia Khan
Verified
Multiflex is incredible! It helped me in conception, pregnancy, and maintaining HB. A comprehensive multivitamin with vital nutrients. Highly recommended!
Hassan Ahmed
Verified
Multiflex is a game-changer! It prevents NTDS, mental retardation, and supports overall health. It really helps my wife during her pregnancy period. It is perfect for expectant mothers. Highly preferred!