Do you need help managing arthritis pain and discomfort? We have a solution to help you with your discomfort – it's called S-Nem! We have made S-Nem that contains Collagen, Hyaluronic Acid, and Chondroitin Sulfate. Collagen is a protein that plays a crucial role in maintaining healthy joints and promoting skin elasticity, or the ability to stretch. It also has Hyaluronic acid, which is a natural substance that helps to cushion and lubricate the joints and other tissues.
It helps in preserving joints and maintains healthy cartilage.
It provides support for the bones.
It supports in management of Osteoarthritis and Rheumatoid arthritis.
Clinically proven to be more effective than glucosamine+chondroitin.
FDA Approved Key Ingredient Sourced from USA (GRAS Affirmed).
Safe for Individuals with Shellfish Allergies.
Regular price
Rs.1,200.00
Regular price
Sale price
Rs.1,200.00
Unit price
per
Sale
Sold out
View full details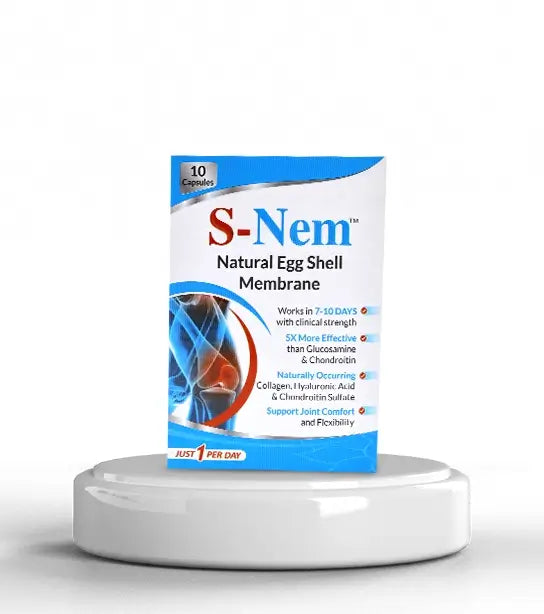 5X MORE EFFECTIVE
5x more effective than Glucosamine and Chondroitin
NATURALLY OCCURRING
Collagen, Hyaluronic Acid & Chondroitin Sulfate

7-10 DAYS
Works in 7-10 Days with clinical strength

SUPPORT JOINT COMFORT
Support Joint Comfort and Flexibility

Amina Khan
Verified
S-Nem is a game-changer! My joint discomfort reduced within days. The formula with Collagen, Hyaluronic Acid, and Chondroitin Sulphate is fantastic.
Zain Iqbal
Verified
S-Nem is amazing! It provided fast relief for my arthritis, and I can move more freely now. Highly prefer it for joint health.
Mahira Malik
Verified
S-Nem is a blessing! Quick relief and improved joint flexibility in just a week. The natural ingredients make it a great choice.
Bilal Siddiqui
Verified
S-Nem is excellent! It reduced my joint discomfort significantly. I'm impressed with the results of this. Highly satisfied.
Shazia Maqsood
Verified
I trust S-Nem for my arthritis! It provided quick relief and improved my joint comfort. The natural ingredients are a plus point.
Faisal Khattak
Verified
S-Nem is a miracle for arthritis! I experienced quick relief, and my joints feel much better. The natural ingredients are effective.